Water Main Repairs
Done-Right! Trenchless
Water Main Spot Repairs or Replacement From Meter to the House
Pressure Reducing Valve Repairs and House Water Shut Off Valve Repairs
Behind the Water Meter Repairs and Pipe Riser to the House Repairs
State-of-the-Art Electronic Water Leak Detection
We Service the Public
We Provide Free Affordable Estimates
Better Way of Repairing or Replacing the Water Main from the meter to the House
When it comes to replacing the water main under a driveway and sidewalk, a pneumatic piercing tool delivers the job cheaper and faster to complete. No more digging long trenches or saw cutting driveways and sidewalks. The piercing tool is ideal for installing utilities under existing landscapes or structures. A pneumatic-power tool creates a compact hole that allows a water main to be installed with minimal disruption and cost.
Less damage to the lawn area
No damage to the driveway or sidewalks
Either copper or polyethylene (HDPE) is used
Guaranteeing no leaks by giving a Life time warranty for HDPE
Note: We DON'T sub our work out.
Just a Small Trench Is Needed
We dig a 15″ wide x 4ft. Long ditch to pierce
Hole Piercing to The House
We can pierce up to 40 feet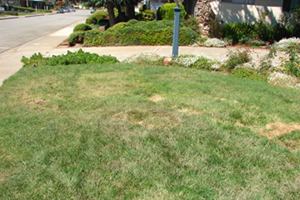 Hard to Find Ditch In The Grass Area
When we place the original grass back, it's hard to see where we dig.
Sometimes We Need To Sawcut
As you can see, we do nice cement work. This cement was just floated, it's not dry yet.
---
Contact us today
to get started with a free on-site estimate!